Episode 77 - Batman: The Movie (1966)...Again
We revisit the first Batman film after going through the first season of the TV show.
3 years ago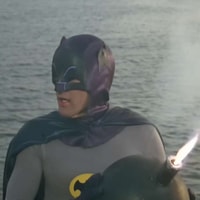 Episode 77 - Batman: The Movie (1966)...Again
Welcome to The Uncaped Crusaders Review! This is a podcast where Mark and Ian discuss (and rant) about all things Batman!
This marks the first time we cover a Batman film again! Well we've just finished reviewing all of Batman (1966) Season 1 so it's only natural that we now go back and talk about the film that came in between Season 1 and 2.
We also talk Henry Cavill returning as Superman and more on the damage the Snyder Cut of Justice League could do to The Batman.
Follow us on Twitter @UncapedReview to keep up with what we are up to!
Follow Mark @MARKYMARKBRAND and Ian @ianbarkbark as well!
Watch #MovieSwap on our YouTube channel every Wednesday!
Find out more at https://the-uncaped-crusaders-review.pinecast.co