Episode 59: Batman 1966 Episodes 17-18 (False Face) and Movie Swap 21 (Molly's Game, Cobra)
Join us as we review the two False Face episodes of Batman (66), talk the latest news from The Batman shoot and we watched Molly's Game and Cobra
7 months ago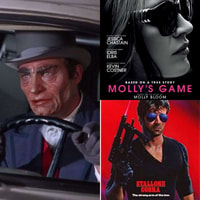 Episode 59: Batman 1966 Episodes 17-18 (False Face) and Movie Swap 21 (Molly's Game, Cobra)
Welcome to The Uncaped Crusaders Review! This is a podcast where Mark and Ian discuss (and rant) about all things Batman!
This week we will get you caught up with all the news on The Batman as filming has begun. For Movie Swap Ian watched the 80s action classic Cobra and Mark watched Molly's Game. For the main event we continue our journey through the 1966 Batman TV Show and review the two False Face episodes, True or False Face/Holy Rat Race!
Follow us on Twitter @UncapedReview to keep up with what we are up to!
Follow Mark @MARKYMARKBRAND and Ian @ianbarkbark as well!
Find out more at https://the-uncaped-crusaders-review.pinecast.co