Episode 54A: The Batman and Star Wars News, Movie Swap 16 (Prisoners and Planes, Trains and Automobiles)
In Part 1 of this week's show we talk the latest casting news from The Batman, Ian watched The Mandalorian and we talk Movie Swap (Prisoners and Planes, Trains and Automobiles)
a year ago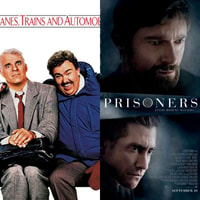 Episode 54A: The Batman and Star Wars News, Movie Swap 16 (Prisoners and Planes, Trains and Automobiles)
Welcome to The Uncaped Crusaders Review! This is a podcast where Mark and Ian discuss (and rant) about all things Batman!
On Part 1 we talk The Batman casting news, Burt Ward is getting a star, Crisis and more. For Star Wars we talk The Rise of Skywalker rumors and The Mandalorian. For Movie Swap Mark watched Prisoners and Ian watched Planes, Trains and Automobiles.
Follow us on Twitter @UncapedReview to keep up with what we are up to!
Follow Mark @MARKYMARKBRAND and Ian @ianbarkbark as well!
Find out more at https://the-uncaped-crusaders-review.pinecast.co